Tacoma Deck Builder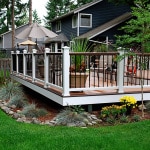 Looking for deck and patio ideas? Learn more about our work at Northwest Decks to get started!
Call 253.342.4688 or 360.731.8445 or Email at [email protected]
We know that life can be stressful and we are deeply passionate about creating beautiful outdoor spaces that your family and friends can use to relax, unwind and connect for years to come.
So whether you are looking to spruce up an existing deck, patio or porch or you're looking to add something completely new, we are here to help! Our team of dedicated designers and contractors are committed to helping you realize your dream space, so give us a call today!
Tacoma Deck Building Company
Northwest Decks makes it our top priority to build a relationship with our valued clients, not just build a great deck or outdoor space! Our highest value is our customers' satisfaction with your new deck, patio, pergola, or outdoor space.
After all, we are working with you to create and build an outdoor space extension of your home that will be comfortable, functional, and is unique to your lifestyle and taste. Northwest Decks wants you to have the deck, patio, or outdoor space your family and friends can enjoy for years to come, generation after generation.
Northwest Decka is a dedicated team of experienced and qualified professionals. Specializing in deck and patio design, as well as multiple outdoor space living options, the only limitation is your imagination and available space (well … and your budget)!
Tacoma Patio Installation
PATIO CONSTRUCTION
Patios are beautiful outdoor spaces where you can set up furniture, a bar, or even an outdoor fireplace. Unlike decks, they are usually situated directly on the ground and can even be constructed in partially closed areas. Our skilled patio contractors can help design your space to best fit your home's landscape and maximize its full potential.
CUSTOM DECKS
With years of design and building experience, our team of qualified designs and deck builders can create the custom deck of your dreams. Leave it to us and we will beautifully fit your new deck in the existing theme, color scheme, and landscape of your home. If you would like a combination of different decking styles, we can accommodate that as well.
We have over two decades of experience in the designing and installation of patios, decks, pergolas, outdoor kitchens, and fences. If you are looking for a variety of custom solutions that fit your specific needs, look no further than Northwest Decks, your Tacoma Deck Builders
You can call us anytime! Call 253.342.4688 or 360.731.8445
Email at [email protected]