Northwest Decks offers deck design assistance!
Not only are we at Northwest Decks experienced deck builders, but we are also experienced deck designers. Northwest Decks is strongly focused on the details during the phases of your deck installation. One of the main services offered to our customers is our ability to design your deck for you. We design decks according to your needs and goals while keeping it practical, safe and able to withstand the tests of time. This includes drawing up the specifications in a 3D rendering, created using design software. You deserve a deck builder that is confident enough in their design and installation services that they can show you what you're buying before it's even built.
From design to installation, Northwest Decks will make sure that your deck is built according to your specifications, while remaining firmly within local building and safety codes.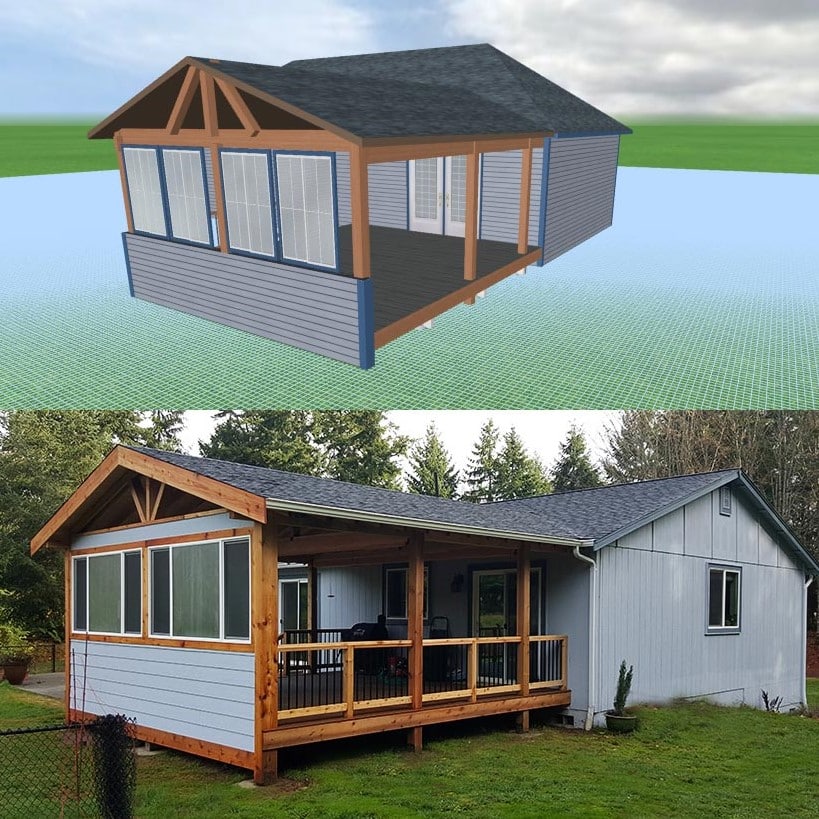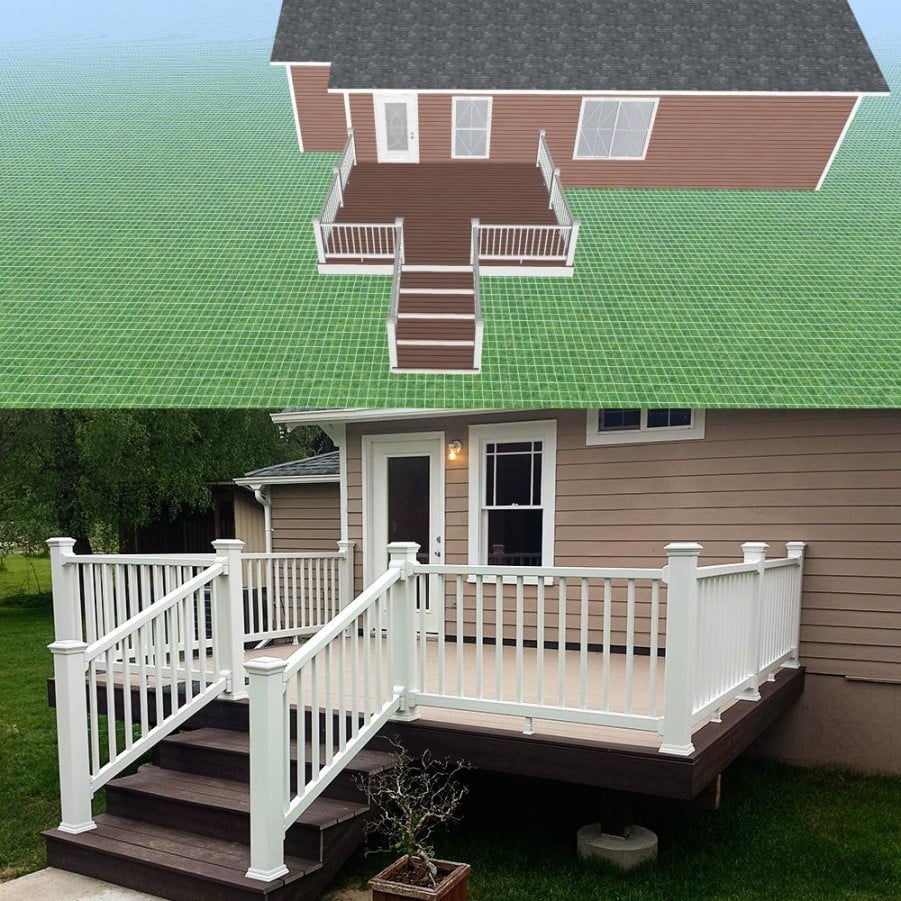 What ideas do you have for your deck?
Whatever they are, we can design and implement them for you. And if you decide to draw up any plans yourself, we will work with you to see if we can make it happen!
What are the types of deck?
A deck is generally any structure that is not enclosed underneath. Here are some basic deck types:
Free Standing Deck

Attached Deck

Covered Porch

Screened Porch

All-Season Exterior Room
Different Deck Styles by Home Aesthetic
See how different styles of decks suit various homes and backyard settings to inspire your own deck design.
Traditional-Style Home
While many different styles of decks suit a traditional-style home, an elegant and unexpected option is a unique curved deck design. Deck styles with a circular section give you a natural gathering place, made even more inviting with a built-in deck bench along half of the circle. Place a coffee table in the center of the circle to create a focal point while giving family and friends a place to set down their plates and drinks. For an even more of an eye-catching design, use different colored deck boards to define the circle.
Mid-Century Modern Home
Pair your sleek mid-century modern home with different styles of decks that are equally simple and chic. Square and rectangular deck styles mirror the same right-angled geometric shapes in your home design, creating a cohesive look and feel. Choose deeply saturated, nature-inspired decking to capture a character-rich look that complements other natural textures, like stone and greenery, of your home's exterior.
Craftsman-Style Home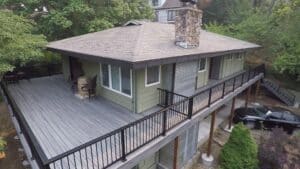 Craftsman-style homes are well-known for their hand-worked structures and artisanal feel. Choose from different styles of decks that play up the architectural craftsmanship of your home such as squares and rectangles with angled corners. Deck styles with angled corners give your outdoor living space a curated feel that will fit right in with other artisanal elements of your home.
Northwest Contemporary Home
Adapting the International style for the Pacific Northwest's wet climate, Northwest Contemporary architects use very low-pitched roofs to help prevent rain from accumulating on top of homes. These low-pitched roofs help account for nature while preserving the home's International-influenced modular shapes. A deck for this style of home may take inspiration from Mid-Century Modern or Craftsman style.
What to Consider When Designing a Deck
Working with our expert deck designers and contractors to create the deck of your dreams can seem like a big challenge. Here are a few tips we've gathered from expert designers and landscapers around the internet on things to consider when designing your deck:
Design for Usage
The best deck design tip is to design a deck based on the needs of who will be using it. The best deck design is ultimately what will fit the actual design of the house and what are the clients needs. For example: Do they entertain a lot? Are they environmentally conscious? Are there any ADA requirements to consider? Do they have children or pets?

 

– Randolph Gareth James, Magnolia Emporium
Include Deck Lighting
For me, it would be that you should always consider some type of deck lighting. To spend so much money on a deck that you don't use at night seems ridiculous. Post cap lights provide lighting AND protect wood posts from rotting and weathering. And there's also under railing lights and up lights that can be inserted into the flooring. Step lighting provides safety for decks with a lot of stairs too. Lighting improves the usability, ambience, security, and safety of your deck.

 

– Steve Hodes Jr, Moonlight Decks LLC
Think About the Sun
Try to design your deck with both a sunny section and a shady section. The reason would be in order to have spaces that are comfortable and usable no matter the weather or time of day or what you feel like doing on your deck. Sometimes you want to bake in the deliciously hot sun, other times you want to relax in the cool shade and read a book. If you like to entertain on your deck, figure out what the sun angle will be at the time you like to be out there. We love to have people eat dinner out on the deck, but unfortunately we're usually out there when the sun is sinking low and so some people end up being blinded with the sun right in their eyes. We need to figure out some type of sun shade solution to this problem.

– Kathleen Moore, CastleView 3D