Tacoma Deck Repair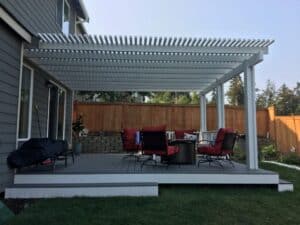 Northwest Decks is known in the Kitsap and Pierce County area for our quality deck design and building services, but we also work with many customers to repair existing decks, porches, and patios. We are deeply passionate about creating beautiful outdoor spaces, that will be a retreat for your family and friends to relax, unwind and connect for years to come. Maintenance, upkeep, and repairs on your deck will help make that possible.
If you want to repair or revamp your existing deck, patio or porch, or if you want to build something new, we are here to help! Our team of dedicated designers and contractors are committed to helping you realize your dream space, so give us a call today!
Call 253.342.4688 or 360.731.8445, email at [email protected], or contact us here on our website.
Deck Replacement Tacoma
SHOULD I DIY MY DECK REPAIRS?
If you've noticed that your deck or porch could use some TLC, you may be wondering if those repairs are something you can do yourself. The answer to this question is going to depend on a few factors.
1: Do you have the right tools?
Our Tacoma Deck Repair professionals are fully equipped with all the tools needed to make whatever repairs you need. It may be that you have the right equipment to make the repairs yourself, or are able to borrow them, but sometimes certain repair jobs require specialized tools.
2: Do you have the skill/know-how?
For simple fixes, many people with a basic knowledge of tools and repair will be able to make those repairs on their own without contracting a professional deck builder. But for more complicated or bigger repairs, or for those who aren't so handy, calling in the professional is the best option. You will have to know for yourself what the answer to this question is.
3: Do you have the time and/or do you WANT to?
Even if you are capable of repairing your deck yourself, and have the right tools to do so, you might also have a very busy schedule, without the time to do your deck repair justice. At Northwest Decks, our entire schedule is dedicated to helping homeowners like you. Contact us today to experience our quality service.
Patio Repair Tacoma
PATIO AND DECK REPAIR FAQS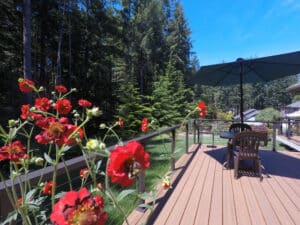 What's involved in a deck or patio repair?
Repairing a warped deck board differs significantly from replacing broken pavers, so the repair process can vary greatly depending on what type of deck or patio repairs you need. The materials used to build your porch or deck and the extent of the damage or decay will determine the best solution. Regardless of the type of outdoor structure or the amount of damage, the first step is a professional inspection. Your Mr. Handyman inspector will explain what repairs are needed so you can make an informed decision.
What are some common deck repairs?
The most common deck repairs typically involve wood and fasteners. Wood expands, contracts, and goes through other changes as it ages. Combined with exposure to the elements, these natural changes mean the wood used to build your outdoor deck will only last for so long.
As deck boards and railing pieces change and shift, fasteners like nails and screws can become loose. When the fasteners aren't secure, moisture can get into the wood around the fastener and cause rust and rot. Other common repairs for decks include:
Board replacement

Railing replacement

Grading and drainage repairs

Footing installation and repairs

Stair replacement and repair
Is repairing a deck or patio expensive?
Many factors affect a deck or porch repair, including the extent of damage, type of construction, and material used to construct the deck. The deck size, permitting expenses, material costs, and even the weather can all affect deck repair costs.
No matter what kind of damage or deck, porch, or patio you have, Northwest Decks can help you choose a solution that works best for you. Whether you decide to repair or replace your deck or patio, we can help with quality materials and service.
Should I have my deck repaired or replaced?
If your deck is still in good shape but has minor damage, then repairing it is usually the most cost effective option. However, in some cases, even a professional deck, porch, or patio repair may not be enough if there is structural damage. If this is the case, investing in a new deck, patio, or other outdoor space may be a better option. Whether we perform simple repairs or build you a new patio or deck, we'll create an outdoor living space that you and your family can enjoy for years to come.