Tacoma Trex Deck Builder
We use Trex Composite Decking to build your dream deck! (We are not affiliated with the Trex company except as a third party vendor.)
Call 253.342.4688 or 360.731.8445 or email at [email protected]. We also serve the greater Pierce and Kitsap County areas, including Gig Harbor, Port Orchard, and Bremerton!
What is Trex?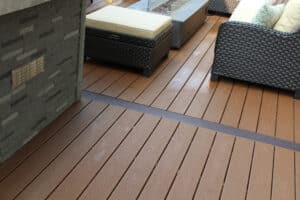 Trex is a composite material designed specifically for building outdoor structures, especially decks, porches, and patios. Due to its durability and weather resistance, Trex is the perfect material for home decks in Tacoma and the Pacific Northwest.
Unlike wood, Trex composite decking won't:
Rot, warp, or splinter

Need regular painting or staining

Fade or become discolored

Be susceptible to termites
Most wood decks are built from pressure-treated pine, cedar, redwood or from a few more rare woods, like teak or ipe. Depending on the wood used, a well-cared-for wood deck can last up to 20 years if all goes well. 
But many wood decks don't make it that long because they require extensive upkeep to maintain and protect, which can become a greater burden than some homeowners feel is worth it. Especially here in Tacoma with our sometimes harsh weather conditions, wood decks are not usually the best way to go.  If left untreated and uncared for, wood loses its luster, absorbs water, warps, rots and splinters. To extend the life of their deck, homeowners have to regularly apply stains, sealers, or paint to protect it against the elements, which can become quite a hassle
In contrast, Trex composite decking is very low-maintenance–you never need to worry about sanding, staining or painting. A cleaning with soap and water every once in a while is all you have to do to maintain superior stability and beauty for decades. Your deck will last for many years for you and your family to enjoy.
Custom Trex Deck Tacoma
Northwest Decks wants you to have the deck, patio, or outdoor space your family and friends can enjoy for years to come. We are a dedicated team of experienced and qualified professionals. We specialize in deck and patio design with Trex, as well as other materials. We offer all kinds of outdoor space options, the only limitations are your imagination and the space available (and your budget, of course)!
Trex Patio Tacoma
What is a Patio?
Patios are outdoor spaces you can use for entertaining, relaxing, or even outdoor cooking. Unlike decks, patios are situated directly on the ground and can be constructed in partially enclosed areas, often with coverings. Our skilled patio contractors can help design your space to best fit your home's landscape and maximize its full potential.
Design your Trex Deck!
With years of design and building experience, our team of qualified designs and deck builders can create the custom deck of your dreams. Leave it to us and we will beautifully fit your new deck in the existing theme, color scheme, and landscape of your home. If you would like a combination of different decking styles, we can accommodate that as well.
We have over two decades of experience in the designing and installation of patios, decks, pergolas, outdoor kitchens, and fences. If you are looking for a variety of custom solutions that fit your specific needs, look no further than Northwest Decks, your Tacoma Trex experts (Trexperts, if you will!) and deck builders.
You can call us anytime! Call 253.342.4688 or 360.731.8445
Email at [email protected]