Gig Harbor Deck Builder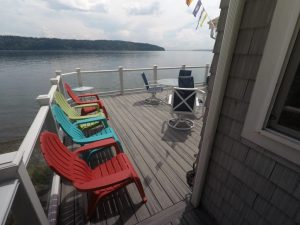 Looking for deck and patio ideas? If you're looking to repair, replace, or build a brand new deck, patio, or outdoor space for your Gig Harbor home, give Northwest Decks a call today!
Call 253.342.4688 or 360.731.8445 or Email at [email protected]
We are deeply passionate about creating beautiful outdoor spaces, decks, and patios that will be a retreat from your hectic lives and that your family and friends can use to relax, unwind and connect for years to come.
So whether you are looking to spruce up an existing deck, patio or porch or you want to add something completely new, we are here to help! Our team of dedicated designers and contractors are committed to helping you realize your dream space, so give us a call today!
Perhaps you've been contemplating a deck addition, but aren't sure you're ready to tackle that project, given time and costs. However, in the realm of home additions, a deck can add real value to your home. Additionally, it causes less disruption to your home than many interior upgrades. In some areas, decks are even more popular than patios or porches.
As you contemplate your options you may wonder:
How much value does a deck add to my house?

How much does a new deck cost?

Is the investment worth it?
The short answer: yes, it definitely adds value. The longer answer: the value depends on your personal enjoyment, as well as the materials and plans you make for your deck, as well as the contractor you hire to build it.
Generally speaking, a deck is a beautiful outdoor living space, which can immensely enhance the overall value of a residential property. When built in the ideal way, a deck can as well greatly improve the beauty of residential homes. Professional deck builders Northwest Decks solutions are widely acclaimed for delivering numerous advantages to property owners. This is especially so when you take the necessary time to compare them with most other home improvement projects.
Gig Harbor Deck Building Company
Northwest Decks makes it our top priority to build a relationship with our valued clients, not just build a great deck or outdoor space! Our highest value is our customers' satisfaction with your new deck, patio, or outdoor space.
After all, we are working with you to create and build an outdoor space extension of your home that will be comfortable, functional, and is unique to your lifestyle and taste. Northwest Decks wants you to have the deck, patio, or outdoor space your family and friends can enjoy for years to come, generation after generation.
Northwest Decks is a dedicated team of experienced and qualified professionals. Specializing in deck and patio design, as well as multiple outdoor space living options, the only limitation is your imagination and available space (well … and your budget)!
WHY CHOOSE NORTHWEST DECKS?
We set high standards for our work and never hire subcontractors, which means our highly trained team is responsible at every step, from the design process to the final product. We've been building composite decks for years and take pride in our customers' satisfaction.
There are many benefits to hiring our deck building professionals to construct a deck for your Gig Harbor area or Western Washington home. Our deck contractors can configure a deck that adds to your home's value, boosts its aesthetic appeal, and creates a space to host fun gatherings with friends and family. Whatever your reasons for wanting a deck, Northwest Decks has a deck construction service for you.
MAKE THE MOST OF YOUR DECK DESIGN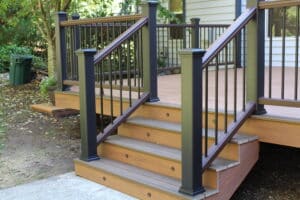 Most people want to design their own deck but often do not know how to start. This is how we suggest you start. Try exploring the big picture. Don't get hung up on details. Use your imagination. If you are still saying things like "I want a deck just like our last house," you are not trying hard enough. Don't be afraid to think big and bold. Perhaps you would enjoy owning your own private terraced oasis, an elegant veranda or some other outdoor space. This approach will typically lead to better results than deciding on a replica of your neighbor's deck.
You probably won't be able to fully realize all of these visions but, in the end, it will be worth it if you can blend a few of them into the final design. Now, let's decide upon what you really need to accomplish your dream deck. Do you need a way to access the backyard from an elevated patio door? Do you need a good place to keep your grill? Do you need a space for outdoor summer dining, relaxing and entertaining? Recognizing and negotiating your needs and wants will be a critical component in expressing your design intentions.
Contact Northwest Decks today. Our Gig Harbor Deck Building services will help you through each step of the process, working with you to design and build the deck that will be perfect for your home and your family's needs.
Gig Harbor Patio Installation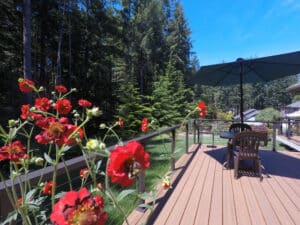 PATIO CONSTRUCTION
Patios are beautiful outdoor spaces where you can set up furniture, a bar, or even an outdoor fireplace. Unlike decks, they are usually situated directly on the ground and can even be constructed in partially closed areas. Our skilled patio contractors can help design your space to best fit your home's landscape and maximize its full potential.
CUSTOM DECKS
With years of design and building experience, our team of qualified designs and deck builders can create the custom deck of your dreams. Leave it to us and we will beautifully fit your new deck in the existing theme, color scheme, and landscape of your home. If you would like a combination of different decking styles, we can accommodate that as well.
We have over two decades of experience in the designing and installation of patios, decks, pergolas, outdoor kitchens, and fences. If you are looking for a variety of custom solutions that fit your specific needs, look no further than Northwest Decks, your Gig Harbor Deck Builders.
Besides visual appeal, our Gig Harbor deck building professionals' design process will always factor in a number of pertinent factors. These given factors are well noted for having a strong influence on the ultimate success of all professional deck installation services. In the first place, the structural integrity of these outdoor living spaces must be upheld right from the design stage of deck builder Gig Harbor solutions. The providers of decking services will pull all stops to make sure that your new deck is efficiently supported by a robust and durable framing.
You can call us anytime! Call 253.342.4688 or 360.731.8445
Email at [email protected]