Poulsbo Trex Deck Builder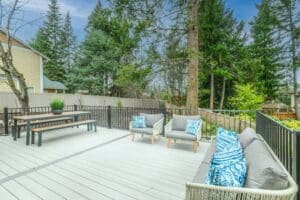 One thing a homeowner often pays close attention to is the overall appearance of their home. Because let's be real — who wouldn't want to own an aesthetically pleasing home? Not only does maintaining your home exterior in good shape add to its overall curb appeal, but it also adds more value to your property. This will definitely come in useful if you ever decide to sell your house in the future.
One of the things you can do to upscale your home is to add a deck. Aside from adding a nice touch to your home, a deck also gives you more space to move around at home. It adds more seating area in your property, making it easier to entertain guests and host events.
If you live in Poulsbo, call Northwest Decks today and have our team of expert custom deck builders elevate your home's style and space.
Custom Trex Deck Poulsbo
There are a number of materials that you can choose from when it comes to building your deck. It can be anything from wood, to aluminum, to plastic type materials. Each material has its own pros and cons, and it can be really hard to weigh in among them and choose the best.
This is why our team at Northwest Decks made it one of our missions to only source out the most durable materials for your home deck projects. Our team proudly uses Trex, a composite designed to endure outdoor use. It is a low-maintenance, high quality, and value for money material all rolled into one.
With a Trex deck, you'll never have to worry about constantly changing or repairing your deck anymore. Although it might not be within the same price range as wood, Trex is a good investment that will last your home for years to come.
Trex Patio Poulsbo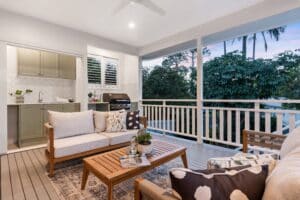 By using Trex as material for your patio or deck, you can be assured that it can resist:
Damage caused by insects or pests

Development of mold or mildew

Rotting or splinting

Wearing or discoloration
Your Trex deck is also easy to clean, so all you have to do is clean it with soap and water, and then you're good to go! Isn't it such a convenience?
Nowadays, it's important to make careful decisions about where you invest your money, especially w
hen it comes to home improvement. Contact Northwest Decks today and have us help you decide how a Trex deck can make such a difference to your home!