Port Orchard Trex Deck Builder
We use Trex Composite Decking to build your dream deck! (We are not affiliated with the Trex company except as a third-party vendor.)
Call 253.342.4688 or 360.731.8445 or email [email protected]. We also serve the greater Pierce and Kitsap County areas, including Gig Harbor, Bremerton, and Tacoma!
What is Trex?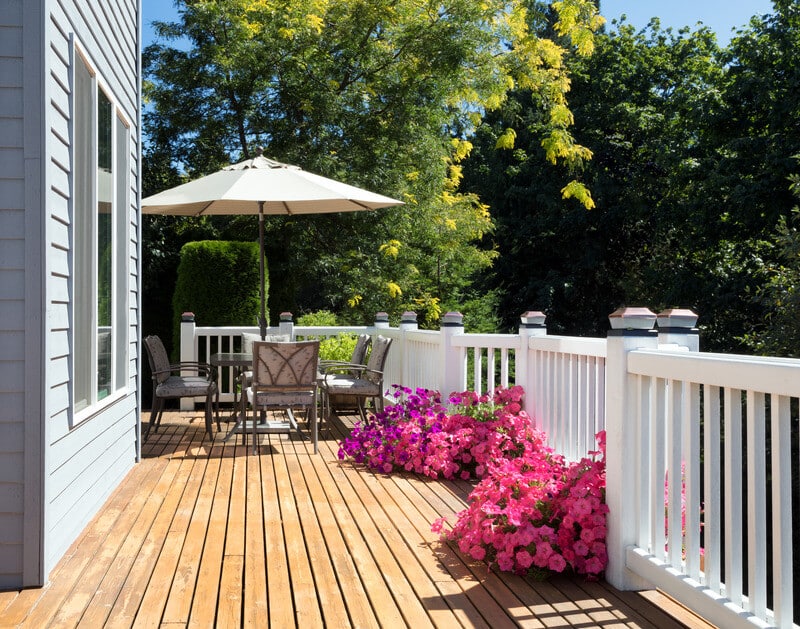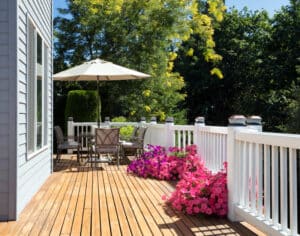 Trex is a complex compound that is made of recycled plastic and reclaimed wood fibers which makes a long-lasting decking from sustainable materials.  Because Trex is a mix of both plastics and wood pulp, it gives a long-lasting durable, mold-resistant, and natural-looking deck.  
With a Trex composite deck, you will not need to worry about:
Fading or bleaching to the color
Stripping, sanding, and restaining your deck every year or every other year.
Being a composite, insects who are normally drawn to wood for sustenance will not be able to snack on your deck.
If a wooden deck is well taken care of and gets regular maintenance to keep it in good shape, a deck can last up to 20 years.  But the pacific northwest has other things to say about how long your deck can hold up and that 20 years starts to get cut down quickly.  On the other hand, Trex decks needs to be washed with soap and water every once in a while to keep it looking new.
Custom Trex Deck Port Orchard
Northwest Decks understands the importance of being able to be comfortable at home.  Home, for so many people, can be a literal oasis in the middle of the chaos known as life. Having a Trex deck or patio that you designed by our highly trained staff, you will not need to worry about being able to go spend some extra time out in the yard.
Trex Patio Port Orchard
Patios are the older sibling to the deck; an outdoor living space that encourages relaxation, entertaining, and creating memories.  Our team can help go over what options you have for your home and what you could add onto it to personalize the space even more.
We have over two decades of experience in the designing and installation of patios, decks, pergolas, outdoor kitchens, and fences. If you are looking for a variety of custom solutions that fit your specific needs, look no further than Northwest Decks, your Tacoma Trex experts (Trexperts, if you will!) and deck builders.
You can call us anytime! Call 253.342.4688 or 360.731.8445
Email at [email protected]