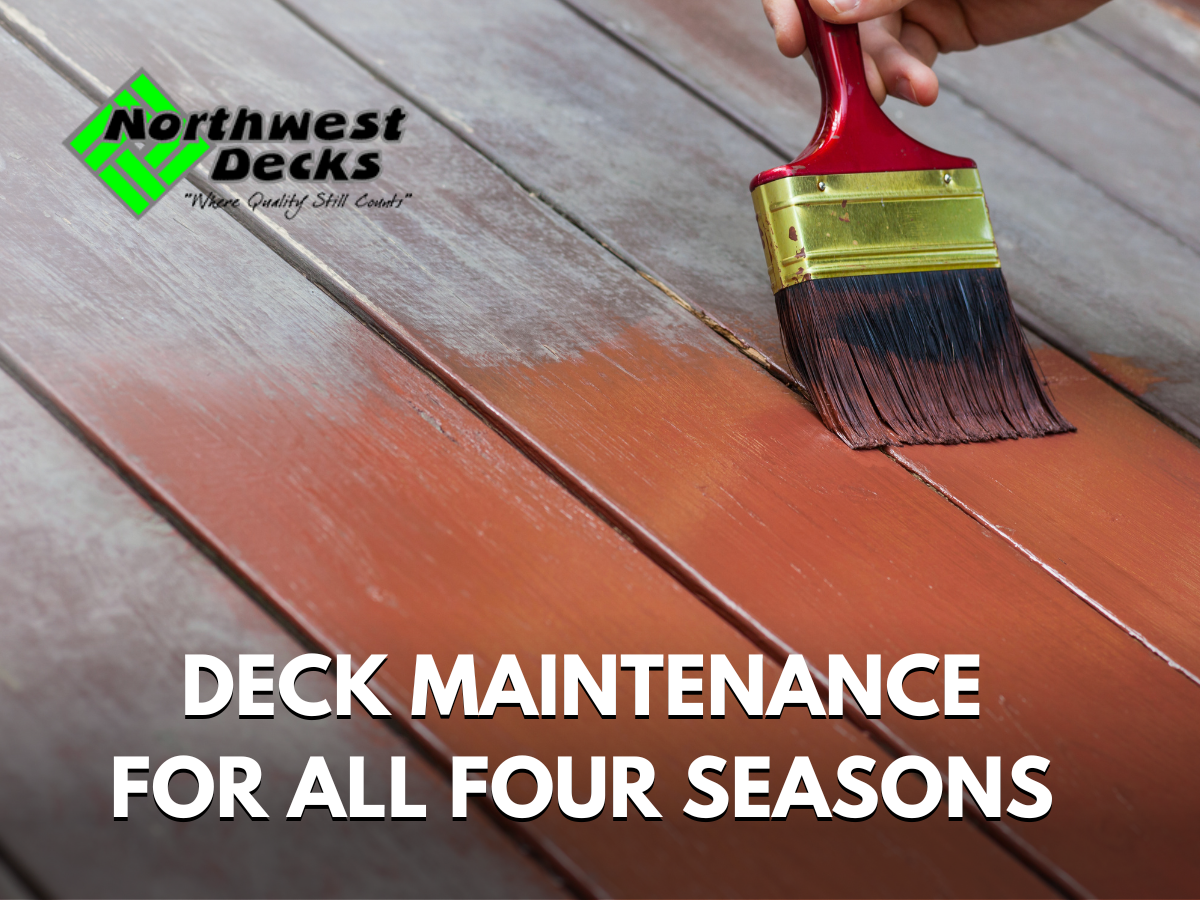 Keeping your deck in its best shape all year round might not be the easiest thing to do, but it's definitely something you can achieve with a little bit of effort and a dash of consistency. Whether you're prepping up for winter, spring, summer, or fall, there's always something you can do to make sure your deck can endure all four seasons in Washington State.
From regular inspections and cleaning to sealing and other repairs, it's best to plan your deck maintenance schedule and activity accordingly. This way, you'll have plenty of time to prepare for them before the heat of the summer or the cold of the winter arrives. It also leaves you with enough time to allow the deck to dry up, in case you need to use something that requires drying.
Here are a few suggestions that we have if you're looking for some Washington home deck maintenance ideas, according to the season:
Winter
Cover or store your furniture

– Outdoor furniture can get damaged due to constant exposure to snow. Use heavy-duty outdoor covers to ensure your furniture is safe and secure from the harsh weather. If you have space to keep them away, that would be perfect, too.

Clear out snow and ice

– Shovel snow away from your deck to avoid any chances of getting moisture damage. Ice removal should also be done carefully to avoid wood damage. Calcium chloride is known to help melt the ice without affecting the wood boards of your deck.
Spring and Summer
Do some cleaning

– Since you can expect some twigs, fallen leaves, and other debris on your deck, you can start the season by sweeping all of them away so you can start your other maintenance practices. You can also rinse the deck if you have the time to ensure no traces of dirt or mildew are left from last season. Wash it down with a hose and some deck cleaner/bleach solution/vinegar, depending on what works best for your specific situation.

Re-apply sealant or stain

– Once your deck is completely dry from being washed, you can go ahead and apply a fresh coat of sealant or stain on the boards. This will give the wood an extra layer of protection, especially since rain can still be pretty common during these seasons.
Fall
Trim trees and branches

– As autumn approaches, you surely don't want to put anyone who hangs out by your deck at risk by leaving overgrown branches to fall out on their own. You can keep your deck a safe space by

pruning your overgrown tree

.

Clear out leaves

– Keep fallen leaves at bay by constantly sweeping your deck. Leaving them on the deck for extended periods of time can promote mold growth due to trapping moisture.
Year-Round Maintenance
Regular Inspection

– Look for signs of damage such as broken boards, splinters, rusting nails, etc. There are cases when you're unable to identify signs of damage with untrained eyes, so it's better to call a deck inspection expert to do this for you.

Repair and replacement

– This is something that's best done by a professional deck repair technician. You can upgrade your deck or patio by replacing broken boards, upgrading your deck railings, and more. You can even ask the technician for recommendations on the best material to use for your deck so you can keep it in its best shape for a long time.
There is definitely some maintenance work that you can do on your own. However, things as complicated as replacing your deck boards and inspecting them for any signs of impending issues are best left in the hands of professionals. Since they have the proper materials and knowledge to do these things, you can be assured that you're getting quality repair and maintenance service that will last you for years to come.
If you're living anywhere in the Kitsap Peninsula area, Northwest Decks is your best bet when it comes to any deck-related work, including deck and patio repair as well as handrail installation. Our team takes pride in our service backed by years of experience and countless 5-star ratings from satisfied customers all over Gig Harbor and beyond.
Interested in booking our deck services? Call our team at 253-342-4688 or 360-731-8445 to schedule an appointment today.